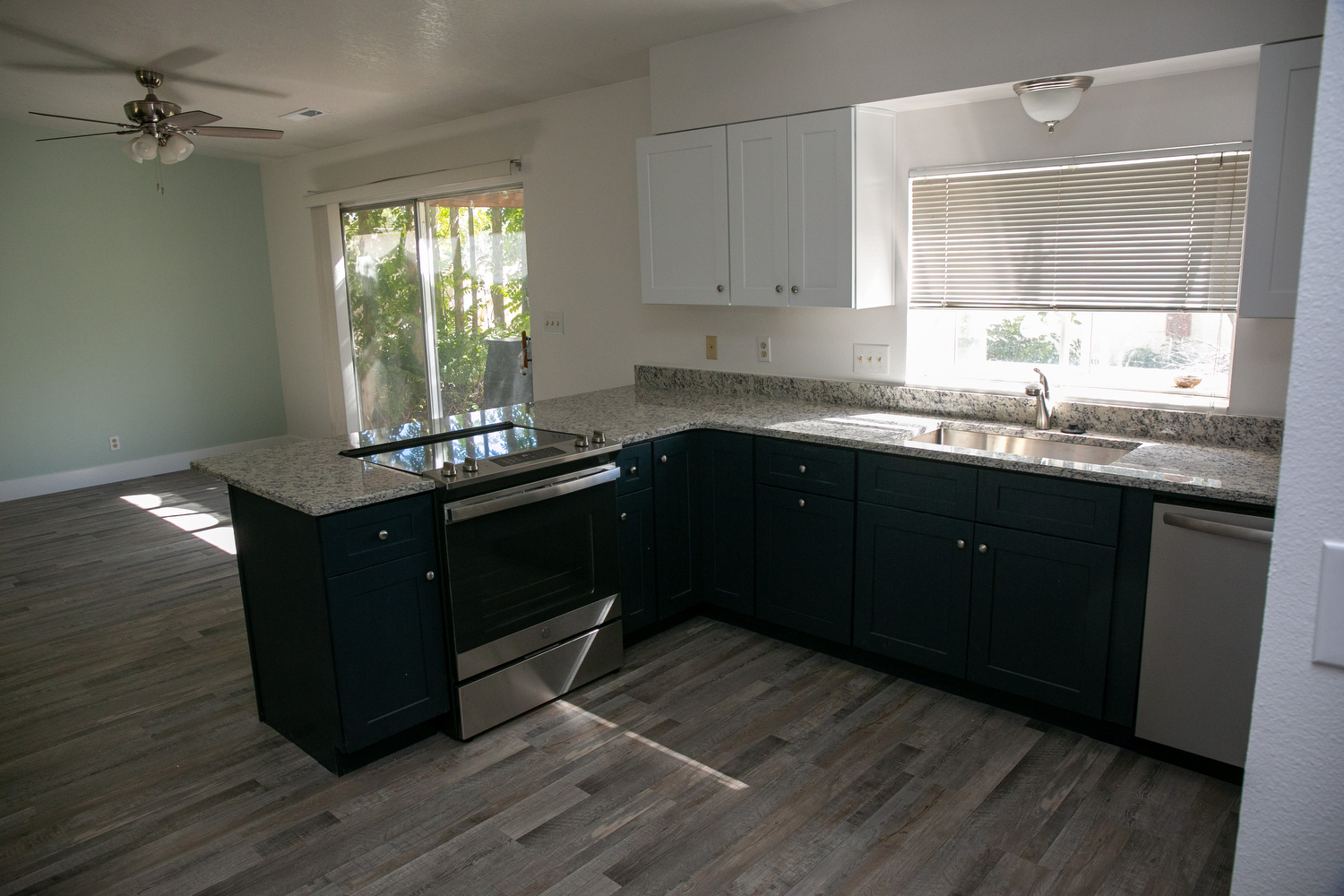 Condo Renovation at the Sunflower in St. George
Burst pipes in this condo in the Sunflower subdivision in St. George resulted in flooding throughout the home. Sunstar Construction and Red Rock Flooring teamed up to repair the damage. And we replaced the carpet and flooring throughout the home. We also renovated and remodeled both the kitchen and the bathrooms in this two-bedroom condo.
The homeowner had been renting the condo when the leak occurred. The flooding caused extensive damage to the floors, the walls, and all the appliances in the home.
To start this St. George condo renovation we removed the damaged flooring. And we pulled out the baseboards and the lower portions of the drywall that had gotten wet in the flood.
We then replaced the drywall and baseboards, painted the whole home, and laid all new flooring throughout.
Then, we laid new carpet in the bedrooms and LVP flooring in the kitchen, bathrooms, and in the main living area of the condo.
New cabinets were needed throughout the home. The kitchen, master bathroom, and guest bathroom all had new cabinetry installed.
Kitchen and bathroom renovations
The kitchen also had to have all new appliances installed and the countertops were also replaced. A number of upgrades like a new stainless steel sink, new light fixtures, and several other renovations had this St. George condo looking like a completely new space when the project was finished.
The homeowner did a portion of the renovation work himself as he prepared the condo in Sunflower in St. George for the return of his longtime tenant.
In the end, we're proud of how this renovation turned out. It's always a good feeling to know the work we do helps a homeowner return a property to a place where it can again generate income after a disaster. And for the renter, it's also fantastic to know our work makes their home a more liveable space.
If you need a renovation in your Hurricane, Santa Clara, Washington or St. George condo, we hope you'll give Sunstar Construction a call!